Hello and welcome to TubeBuddy! We appreciate that you chose us to help you along your creator journey and we look forward to seeing you and hearing your story! At the end of this article will be links to our Community Forums and Discord Server... these are excellent resources for getting started and you would make a valuable addition to the community!
Now, let's get you signed up. This process will only take a minute. Start by going to tubebuddy.com/install We do suggest doing so via a Chrome Browser on your computer as this will provide an optimal user experience. Once here you will need to click the Add to Chrome button in order to add the extension to your browser.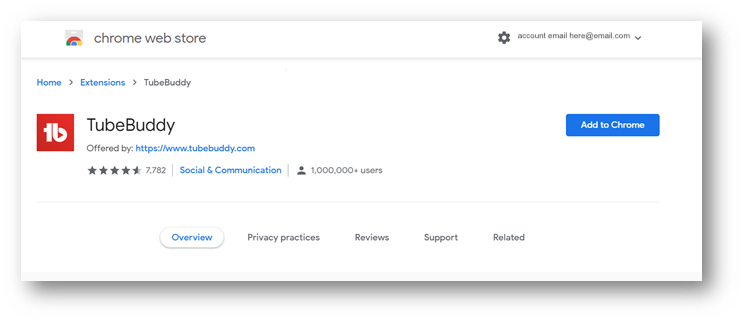 Once downloaded you will be taken to our welcome page. This will provide the simple instructions for finishing off your registration, though I will go ahead and continue with those instructions here. Here you will also find further resources for getting started. From here you will want to Sign In with the account sign-in option at the top-right corner of the screen.
From here you will be taken to your TubeBuddy Homepage. There are a ton of options available for you back here, including your Social Media Integrations, your Affiliate dashboard (that's right... you can make money with TubeBuddy!), and many more. We have a vast library of tutorials on our YouTube channel for each one of these. For now, we are going to focus on getting you signed up though. On this screen hit the green Add Channel button located near the top-center part of your screen.
This is going to open your Google OAuth channel selection menu. Simply select the channel that you are trying to sign up for and confirm and your channel will be provided with an immediate Free, Starter TubeBuddy license. It will also be given a Profile Card (like the ones shown above) so that you can get our customized data and analysis tools specifically for your channel.
The next step will be to explore! Go check out the tools you now have available in your YouTube Studio and on your website profile menu. Check out this video to help you get acclimated as well:
As I mentioned earlier another great resource is our Community Forums and Discord Server, come on over and say hello!